The administration consists of a founder, bureaucrats, administrators, moderators, patrollers, and chat moderators. We currently have one bureaucrat, two human administrators, one test account with administrator rights, a chat mod, and no moderators or patrollers. If you would like to apply for adminship, please contact a bureaucrat. We will not consider appointing any more administrators, but moderator, patroller, and chat moderator positions are open.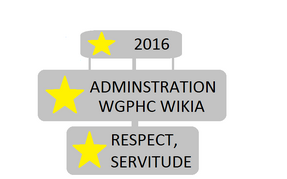 Founder - TheRoyalNate
Bureaucrat - TheRoyalNate
Administrator - CatAlba
Administrator - Pet The Lizards
Administrator - Thecoldboringguy157
Administrator - Mr Roboto Soup (Test account)
Chat Mod - Peridot The Vault-Dweller
Ad blocker interference detected!
Wikia is a free-to-use site that makes money from advertising. We have a modified experience for viewers using ad blockers

Wikia is not accessible if you've made further modifications. Remove the custom ad blocker rule(s) and the page will load as expected.